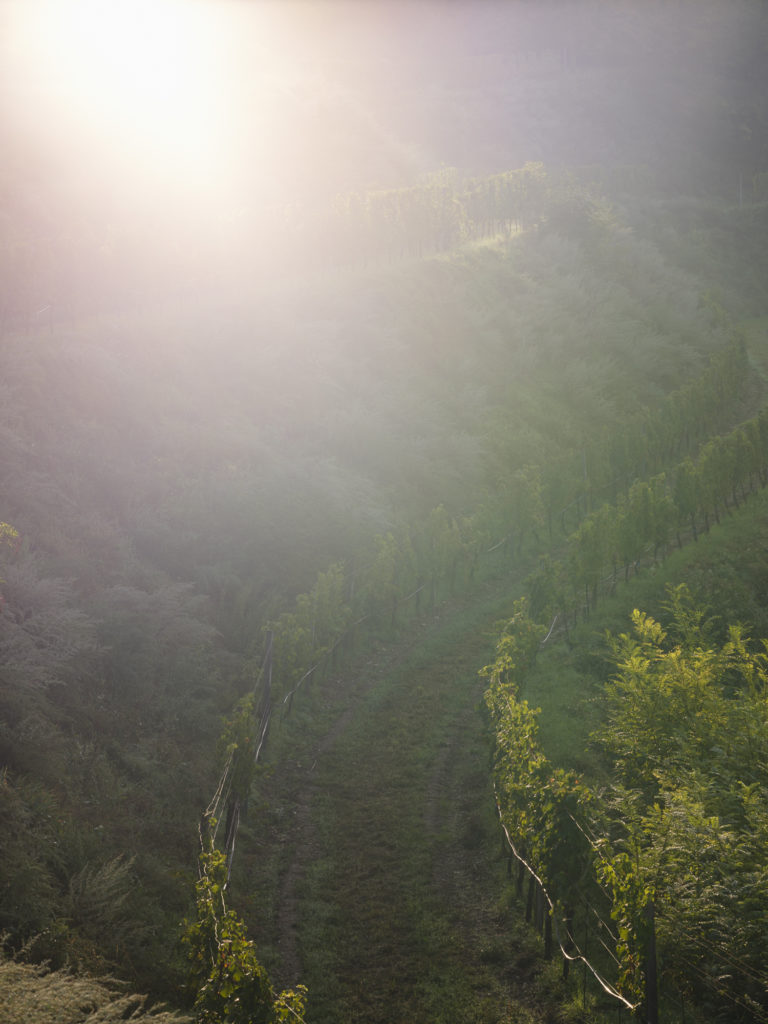 Order needs chaos. Chaos needs order. In nature, the unfinished lives next to the finished, the perfect next to the imperfect. We live with this certainty.
It is part of our culture.
This place has history
Written by the people who live and have lived here. The Atrium House, built by Grandfather Lenz Moser after the war from undamaged parts of Vienna's classicist buildings, is past and future, tradition and change. Order and chaos. A place where nothing is necessary and everything is possible.
The Atrium House is the heart of our winery. The offices, the tasting room and sales as well as the wine cellar are located here. It was built in 1964 and impresses with its uniqueness. Its architecture is reminiscent of a Roman atrium with a portico and a fountain in the centre. The extensive glass roof can be opened which reveals a view of the sky. After the Second World War, grandfather Lenz Moser bought intact parts from the bombed ruins of classicistic buildings in Vienna, and reused them for the construction. For example, the former pillars of the Salztorbrücke adorn the main room of our house today. The winery is entered via the former stairs of Vienna's southern railway station.  The large terrace in front of the house reveals a beautiful view of the Danube valley.
The Atrium House offers a unique ambience, whether for weddings, birthdays or company celebrations.
Vitikultur MoserA-3495 Rohrendorf, Untere Wienerstraße 1
Phone: 02732/70531
office@vitikultur-moser.at
Monday – Friday
8.00 – 12.00 am. and 2.00 – 5.00 pm.
This way and not another. The illusion of predictability.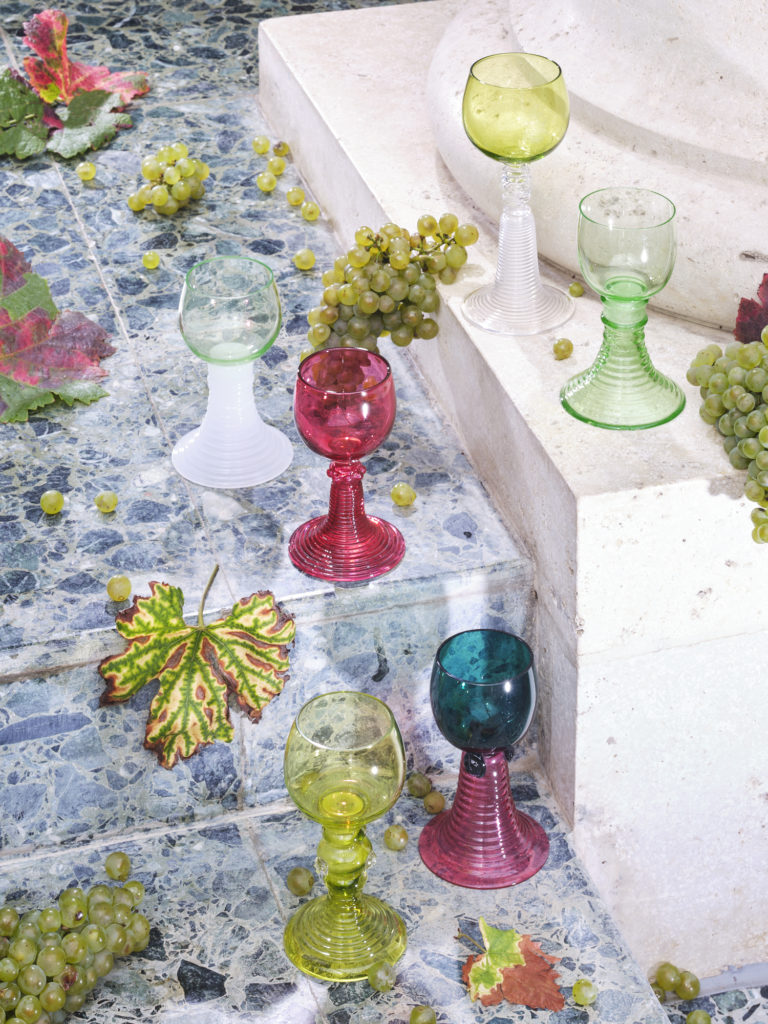 Biodynamics is an inner conviction, not a label that you stick on. For us it was, and is, the agriculture of the future. Our soil and the vines rooted in it are in balance. This results in wines full of liveliness, in which nature expresses itself. A game in which the beginning is unintentional and the end is something special. We accompany this game and celebrate the autonomy of the moment, which in wine becomes a little big bang, an echo of nature.
Making wine means getting off the rails by breaking the order in the right places. Then everything gets its very own groove.
As early as the late 1990s, we were certain that biodynamic viticulture would accompany us for the rest of our lives. In our search for role models, we initially came into contact with biodynamic pioneers in Alsace, France. That was the cornerstone for our development. The philosophy of using this method of farming not only to be environmentally friendly, regenerating and building up the soil, to be able to produce authentic, unadulterated and individual character wines, was and is our aim. Everything which develops, is and remains in motion. That's exactly what we love. A system that allows us to live our own uniqueness and cultivate our independence. This is how we plan and build on our farm organism. In the end there is diversity. Away from the wine monoculture.
Even if things get chaotic at times, our family has been involved in wine for 17 generations, and we have been Demeter-certified since 2009. The use of biodynamic preparations is a method to strengthen the vitality and resistance of the vine cultures. Contrary to the "fighting of symptoms" that is common today, we Demeter winegrowers strive to bring our vines into balance and thus make them more resistant to fungal diseases and pests. In addition to biological plant protection, the biodynamic spray preparations (horn manure and horn silica) as well as plant teas and extracts, compost and compost preparations are our tools. Our animals promote and stimulate the circular economy of our winery. Two Noriker horses plow part of our vineyards. 30 hens, kept in a mobile barn in the middle of the vines, provide us with eggs. A small flock of sheep grazes on our slopes.
Here you can, if you want. But you don't have to. Of course, we're still happy when it happens – over every glass and every single bottle.
Be who you are.
Many first names, being one and the same, we are different and yet have a lot in common. Every generation is looking for its own way, its own path. And that lies somewhere between integration and independence. A family project full of life and dynamism. Together nurture our past and at the same time our future. It is shaped by a culture of diversity. Completely unaffected, it puts itself at the service of the new, swims against the tide and keeps moving. It leaves its mark on the individuality of our wines and is therefore an expression of our self-image.
Nikolaus Moser
nikolaus@vitikultur-moser.at

In 2000 I took over the business from my father Sepp. Organization, viticulture, cellar strategy and customer care are all part of my work. My passions are the vines and everything that grows, creeps and crawls around them. I am a declared tree sympathizer and love the exchange with committed and vinophile people.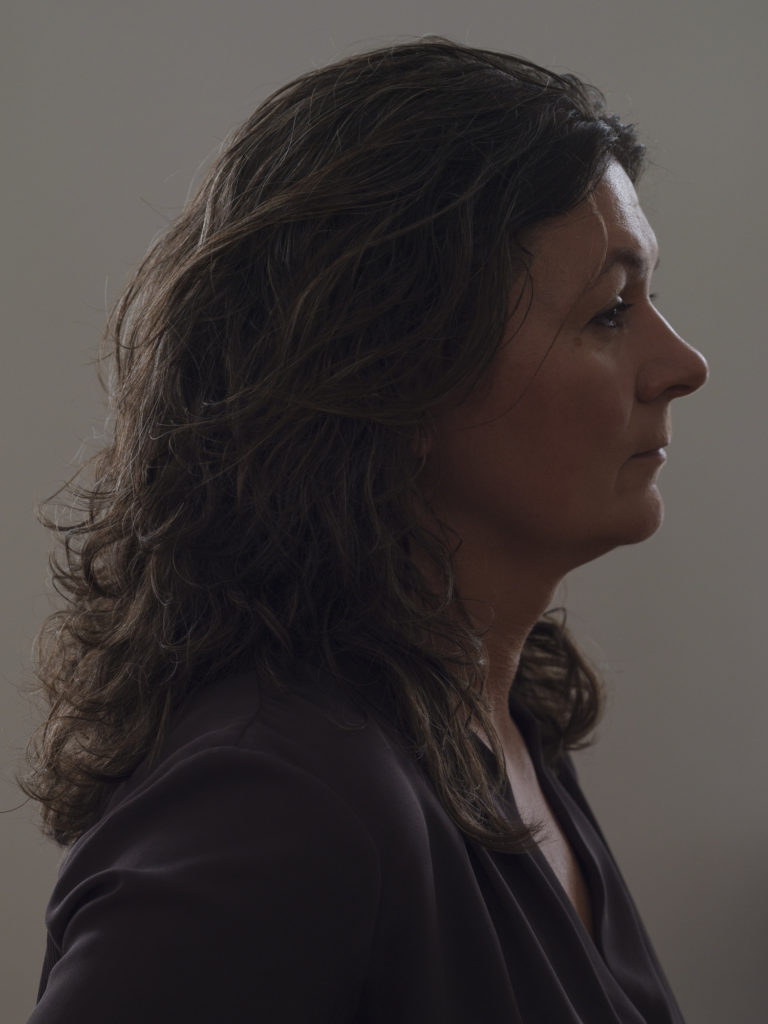 Andrea Moser
andrea@vitikultur-moser.at

The threads come together for me. I'm a Mother, Grandmother, but also something like the good spirit in the house. In addition to financial and organizational matters, I take care of the well-being of our guests and employees. I am said to be a particularly good taster. When it comes to oenological decisions, I often tip the scales.
Kathi Moser
kathi@vitikultur-moser.at

After studying and some internships in Austria and abroad, I have definitely arrived at the winery in 2018. I take care of export, presentation and marketing and, together with my husband (and cellar master) Jan, I take care of the processes in the wine cellar. I value purism and the least possible intervention in wines. As an assertive woman, I have found my ideal sport in rugby.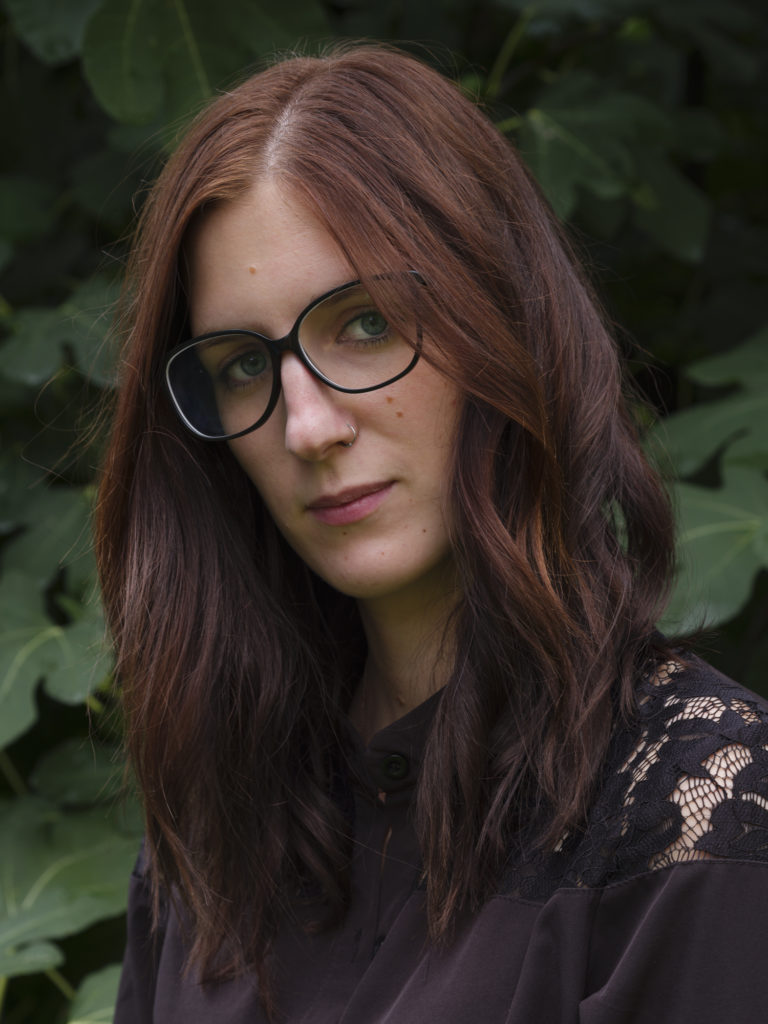 Mariana (Nana) Moser
mariana@vitikultur-moser.at

In addition to gastronomic training, I also completed vinological studies and training as a wedding planner, a combination that keeps me busy in our atrium. I advise and organize events, weddings, wine & dines and conferences for our guests. I am also the mother of our sweet daughter Leni. My passion is working with our two Noriker horses, which are used more and more in the vineyard.
Jan (Honza) Moser-Vavricka
jan@vitikultur-moser.at

My former job in the Prague Ministry of Finance had become too dry for me, which is why through happy coincidences, I became a traveling winemaker between South Africa, California, Australia and New Zealand. I also met Kathi through my love of wine. Today I am not only her husband, but also the cellar master of the family estate. As a big fan of the biodynamic movement, I am also a co-founder and active board member of Demeter Czech Republic and Slovakia.
Anything can arise – and arises – at any time
In what we do, we concentrate on what is there, accept it in its diversity and enjoy improvisation. The most beautiful things arise from spontaneity. Apparently without structure and yet following an inner order. Nature has collected and stored all the little bits of information. She knows what she's doing. Every year she rearranges this information. An order that we support according to the principles of Demeter agriculture. Within two places – In the Lower Austrian Kremstal and in Burgenland, east of Lake Neusiedl.
In Rohrendorf, Lower Austria, it is primarily the expressive and mineral white wines that thrive in the steep terraced vineyards, while the focus in Apetlon on the plain of the Burgenland Seewinkel, is on red wines rich in structure, and noble sweet wines. From the year 2000, the vineyards were successively converted to biodynamic cultivation, and the winery has had the Demeter certificate since the 2009 vintage.
Kremstal / Lower Austria
The headquarters of our family is in Rohrendorf, 70 km west of Vienna. Wine-growing has a centuries-old tradition here. White wine varieties dominate in the south-facing terraced vineyards of the communities of Rohrendorf and Krems. On loess and weathered conglomerate soil, Grüner Veltliner variety plays the lead role with a share of over 60%. Riesling, Chardonnay, Sauvignon Blanc and Pinot Noir complete the range of varieties on a total area of 24 hectares. Warm during the day and cooling temperatures during the night hours, it ensures a balance between maturity and the lively expression of wines throughout the growing season.
Neusiedlersee / Burgenland
In the early 1960s, Sepp Moser acquired fallow land in Apetlon and planted vines on it. Here, in the middle of the Neusiedlersee-Seewinkel nature reserve, one finds excellent conditions for red and sweet wines. The Zweigelt vine, Austria's No. 1 red wine variety, has played the leading role right from the start. Its share is still today over 60% in our 27 ha of vine cultures which grow on silty-sandy, quartz-like gravel with a clear proportion of carbonates (limestone, dolomite) in the subsoil and in the topsoil a 0.5 to 1 m thick layer of calcareous black earth (Chernosem). Merlot and Blaufränkisch, as well as the white wine varieties, Muscat Ottonel, Pinot Blanc and Chardonnay complete the range of varieties.
From the winery and beyond
Our house is not only a winery, but also a place of encounter. It offers space and opportunity for tasting our wines and purchasing them from the farm. In addition, events are held here from time to time, which we are happy to keep you up to date on.
Opening hours
Monday – Friday
8:00 – 12:00 am. & 2:00 – 5:00 pm.


Or by appointment at: office@vitikultur-moser.at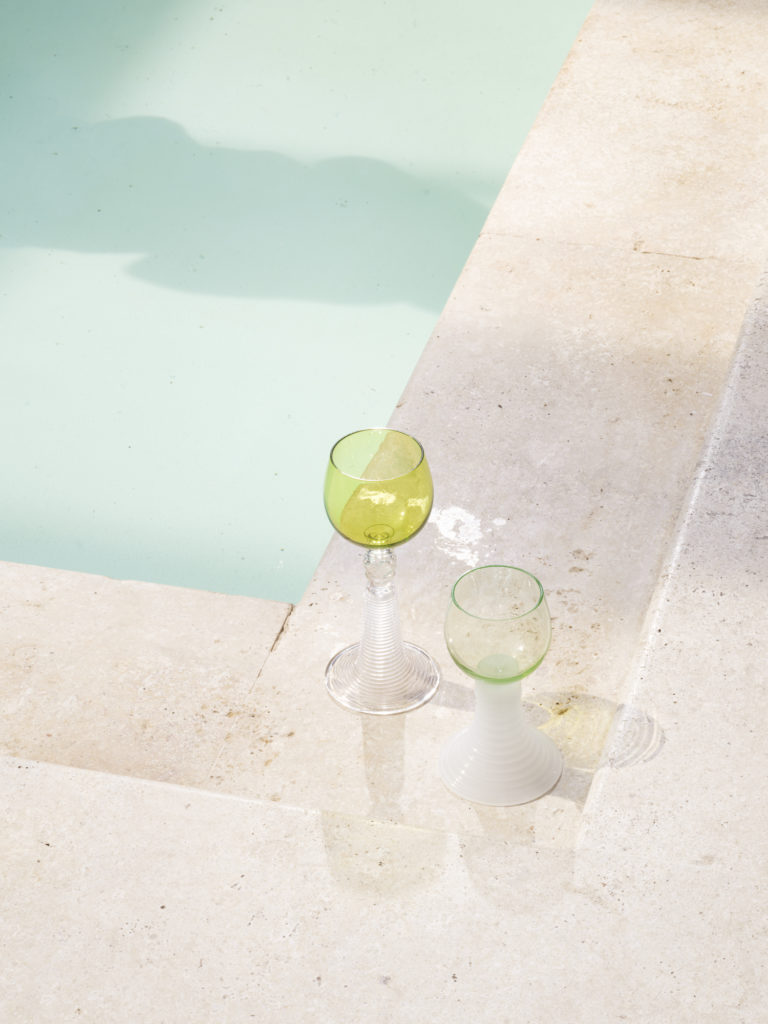 Order needs chaos. Chaos needs order.